24.11.2009 | Neuss under fire in 2010

---
Fighting our laziness, we brought it off, amoung extensive rehearsal room cleaning and beer tasting, to compose a proper billing for the next BATTLES IN THE NORF:




Furthermore we´re looking forward to support the ACCENSION TO THE THRONE - Tour with the scandinavian hordes of Demonical, Deathbound und My Own Grave on Feburary, 18th at "Haus der Jugend" in Neuss.




Drop by and bang your fucking head!
posted by Bernd
23.07.2009 | Donghill torn to pieces!

---
Last announcement that you won´t have to bear us "open air" this year again turned out to be a fake.
Last Friday we were ordered to the Dong Open Air, in order to replace Dew-Scented, roughing up the visitors. A successful mission indeed, as you can see on the shots.


posted by Bernd
08.07.2009 | OpenAir-Tour finished

---
Although a couple of days passed by, we are proud to present the following news:

Both "Rage against Racism" and "Queens Of Metal" had been successfully absolved and documented.

To all headz who attended these spectacles and were able to animate parts of us to undress, drink beer and raise hell: Heavy Metal!




posted by Bernd
23.01.2009 | RAVAGE on Radio

---
Next Sunday 25.01.2009 there will be a radioshow with Ravage at Antenne Düsseldorf UKW 104,2.
You can find also an onlinestream at www.antenneduesseldorf.de

Have a nice listening!
posted by Dennis
18.01.2009 | New shirts available!

---
The Last-Minute-Merchandise-Heroes did it once again:

A colourful and fresh design will decorate the new RAVAGE-Shirts, which will be availabe from Battles In The Norf 666, on January, 30th and 31st.




The price for these trendy textile will be 12€.


posted by Bernd
01.01.2009 | RAVAGE co-moderate HeavyMetalHomeTV Part 16

---
Happy new year to all Ravagers!

Just before Xmas we met Ili from HMHTV to create together with him Part 16 of his liked broadcast.

Here you can see the result:

www.myspace.com/hmhtv
posted by Dennis
05.12.2008 | "Get fucking slaughtered" SOLDOUT!!!

---
The first edition of "Get fucking slaughtered" has been spread amongst the metalfolks.
Whether there will be a second pressing or not, has not yet been planned.
Congratulations to those who could already acquire a copy:
"Thanx for your support and listen to it over again!"

posted by Dennis
29.11.2008 | Grind Attack

---
Cheerz Metalheadz!
From now on you can order our Violent Offense and Infernal Devastation records not just from us but also from Grind Attack. This is a new cool metal mailorder. Check it out and support the fucking Underground!!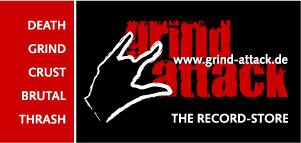 posted by Christoph
25.10.2008 | Marius "Jussi" Pesch joins the Thrash Commando

---
Hi folks,
Because our guitarist Daniel left Germany in August for 14 months in order to ravage Down Under, we had a big gap at our guitar front to fill. Fortunately, Marius "Jussi" Pesch of "Kingdom of Salvation" (www.kos-metal.de) has joined the band for the period of Daniels absence. Together we can continue our Death campaign as strong as before. So thanks a lot pal!!

posted by Lordbier
14.09.2008 | Violent Offense now released!

---
You can now order our new album "Violent Offense" "Violent Offense" (11 songs, 46.19 mins) for a mere 10€ + s&h from us!

All you need to do is send a mail with your order to thrash@totalravage.de and we will process it as soon as possible.
You can also listen to three of our new songs on our MySpace-Site - enjoy!
posted by Christoph